Furniture Moving Cost within Kolkata per Kilometre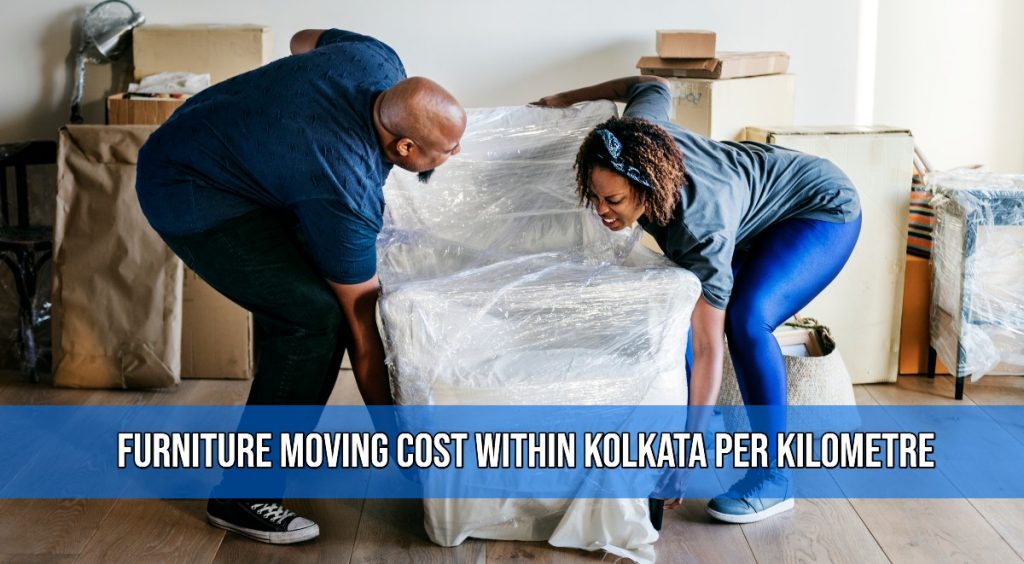 The cost of furniture moving within Kolkata city may vary from Rs. 3000 to Rs. 40000 for up to 50 kilometres distance depending on the quantity and types of the furniture. In case you want to move your office furniture, your cost may range from Rs. 11000 to Rs. 180000 depending on the associated conditions.
Though there are a variety of factors that influence the total cost of furniture moving in Kolkata, packers and movers mainly consider 2 major factors – distance and quantity of the furniture you want to move.
Moving furniture from one place to another is a daunting job for people who don't have any idea about relocation services. Furniture are valuable items and you will need to be careful about the safety concern of your furniture. In most cases, people get frustrated when they see that the furniture arrived damaged after moving from one place to a new location.
To ensure the safe moving of your furniture, you will need to hire professional packers and movers service so that you can be mentally relaxed. But before choosing any relocation services you should definitely check out the reliability and trustworthiness of the company. Only a good and trusted moving company can provide you a reliable and safe moving services for your furniture in Kolkata.
Euro Packers and Movers offers complete relocation services in Kolkata as well as across the world including furniture moving services at a very competitive cost. About 16 years of experience and expertise in this industry made Euro Packers and Movers one of the most trusted and leading moving companies in Kolkata as well as India. Contact us to know more about the cost of furniture moving within the city of Kolkata.
Factors That Influence the Cost of Furniture Moving Within Kolkata Ci
A variety of factors impact the total cost of moving furniture within Kolkata City. The major factors include distance, the volume of furniture goods, packing materials, type of vehicles required, manpower required, and insurance and taxes.
Distance of Pick up and Drop Location
Distance is one of the most important factors that influence the price of hiring a furniture moving service in Kolkata. It has a significant role in total furniture relocation costs within Kolkata. Typically, the more distance you want to cover, the higher the price of furniture moving.
More distance means more fuel consumption, more time, more labor, and more depreciation of the transport vehicle. Most relocation companies consider the distance at the first point before giving you an appropriate estimate.
The volume of furniture goods
The total volume of furniture also plays an important role in the cost of moving. The more items you want to move, the moving price will be higher accordingly.
Besides, fragile furniture needs special care including robust packaging, careful and expert handling to avoid the risks of damages in moving. If you have fragile furniture, then moving companies may ask for premium prices for the same.
Packing materials
Both the quality of packing materials and the quantity of packing materials affect the total price of furniture moving to Kolkata. Packing materials have a large number of ranges. Selecting perfect packing materials depends on the types of furniture, condition of roads, and the season of the moving perio
If the road condition is not very well, you will need a good quality packing material to protect your furniture against jerks and jolts of the transport vehicle while in transit. Fragile and costly furniture also need special packaging material. If you want to move your furniture in a rainy season, you may have to pay higher price for extra waterproof packing materials.
Type of transport vehicle required
The volume and type of your furniture will be the deciding factor of your transport vehicle. The type and size of transport vehicle required in your furniture moving play an important role in the cost of furniture relocation. Bigger vehicles attract higher prices.
Manpower required
The number of manpower required in the process of moving your furniture also influences the cost of moving. If you have large volume furniture, you will need more men to handle the shifting process of your furniture. The more manpower you require, the more labor charges you will have to pay.
Insurance and taxes
Generally, local moving doesn't require any insurance for the short distances. But if you have premium quality furniture and you are extremely concerned to protect them, then taking insurance is a good idea as the moving company and insurance company both will be careful about the safety of your furni
You will have to pay all the taxes as per norms including toll taxes, GST, etc. if applicable. The insurance and taxes will increase the total cost of moving your furniture within Kolkata.
Furniture Moving Cost within Kolkata Based on Kilometre (Distance)
For local shifting of your furniture within Kolkata, it's highly recommended to hire a professional moving company such as Euro Packers and Movers within the city. The furniture moving cost within Kolkata may range from Rs. 3000 to Rs. 40000 for up to 50 Kilometre distance. In the case of office furniture shifting, the cost may vary from Rs. 11000 to Rs. 180,000 depending on the associated factors.
Here is a chart of approximate prices for moving furniture within Kolkata.
Home Furniture Moving Cost Based on Kilometre (Distance)
| | | | |
| --- | --- | --- | --- |
| 1BHK | 4500 – Rs. 9500 | Rs. 3000 – Rs. 7500 | Rs 4500 – Rs. 9500 |
| 2BHK | Rs. 3500 – Rs. 8500 | Rs. 4000 – Rs. 9000 | Rs 5000 – Rs. 11500 |
| 3BHK | Rs. 5500 – Rs. 15500 | Rs. 5500 – Rs. 16000 | Rs. 9000 – Rs. 22500 |
| 4BHK | Rs. 6100 – Rs. 14500 | Rs. 6000 – Rs. 21500 | Rs. 9000 – Rs. 22500 |
| Complete Home | Rs. 7500 – Rs. 21000 | Rs. 9000 – Rs. 30000 | Rs. 12000 – Rs. 40000 |
Office Furniture Moving Cost Based on Kilometre (Distance)
| | | | |
| --- | --- | --- | --- |
| Micro office | Rs. 12,000 – Rs. 19,000 | Rs. 14,000 – Rs. 23,000 | Rs. 15,500 – Rs. 25,500 (6 people) |
| Small office (20 People) | Rs. 19,500 – Rs. 35,500 | Rs. 23,500 – Rs. 40,500 | Rs. 25,500 – Rs. 45,500 (20 people) |
| Medium office (50 People) | Rs. 45,500 – Rs. 70,500 | Rs. 52,500 – Rs. 80,500 | Rs. 61,000 – Rs. 91,500 |
| Standard office – (100 People) | Rs. 71,000 – Rs. 140500 | Rs. 80500 – Rs. 152000 | Rs. 92000 – Rs. 180000 |
| Corporate office | ask for quotations | ask for quotations | ask for quotations |
Experience the best quality furniture moving services in Kolkata with Euro Packers and Movers. To get your personalized quotation, just make us a c